Welcoming you back into a safe environment of therapeutic touch.
If you have become boxed in by fear and doubt, I invite you to challenge yourself to a safe experience of human touch.  No words are required just trust and I guarantee a vast memory will flood the mind and rid you of this doubt.
We take the current environment very seriously and utilize all our expertise and resources in providing a safe environment to rediscover your own sense of well being!
It's time to Heal.
Gregory, Owner of Mpower Bodywork
Featured Therapy
Foot Essentials
Your feet work hard every day. They carry the pressure of your body weight with every step. Often problems with the feet can cause problems moving upward to your ankles, legs, knees and lower back. Your feet have the job of keeping everything above them properly aligned. They are literally the foundation that you stand […]
Read More >>
Featured Therapists
Yaddy
Yaddy graduated from The Swedish Institute and has been in the hotel hospitality industry for 16yrs and a Massage Therapist for 11 years.  My sole purpose for being a massage therapist is to help people.  I love what I do so much.  It shows in my work because of the energy I bring into it […]
Read More >>
Mariko
Mariko Yamamoto is a dual licensed acupuncturist and massage therapist from Japan. She holds a Masters of Science from Tri-State College of Acupuncture in New York City as well and an esthetic certification from the Christine Valmy International School of Esthetics. Mariko practices gentle needle techniques influenced by Japanese meridian therapy, which brings your body […]
Read More >>
Rimma
Rimma is a determined, dual licensed New York State acupuncturist and massage therapist. She graduated from the Pacific College of Oriental Medicine with a Master's Degree of Science in 2019. During her education, she developed proficient skills in the Traditional Chinese Medicine style of acupuncture, and including ancillary techniques such as cupping, guasha, and the […]
Read More >>
Chris
Chris is born and raised in new york. He is a New York State licensed massage therapist. He received his certification at the Swedish institute. People have always said he has a great touch, which always fuels his passion to heal others through touch. He is an avid video game enthusiast, and loves Mixed Martial […]
Read More >>
Carlos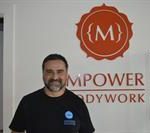 Carlos is an Acupuncturist who received his training at Tri-State College of Acupuncture. He is also a massage therapist who received his massage certification from the Swedish Institute.  He has been working in the body arts field since 1994. His acupuncture work consists of doing classical and traditional styles of acupuncture with trigger point dry […]
Read More >>
New Client Special
Therapist Reviews
Nov 25, 2020
Wed Nov 18 2020 07:07:08 GMT-0500 (Eastern Standard Time)
Sarah is a seasoned professional who is also attentive to your health issues. She gives a great massage.
Nov 18, 2020
Andres has a wonderful energy and is very knowledgeable. I am almost 8 months pregnant and my session with Andres has released a lot of tensions . my body and my mind were totally relaxed and recharged after this session . i felt really comfortable with him and he really made sure everything he did and my positions were safe for me and my growing baby .
Nov 18, 2020
Highly professional and skilled work by Chelsea. Appropriate amounts of pressure and good communication. Thank you Chelsea!!!
Nov 18, 2020
I came accross Mpower bodywork and Gregory while searching for prenatal massage in my area on google . I am almost 8 months pregnant and had accumulated a lot of tensions and aches in my body because of pregnancy . Gregory made me feel immediately comfortable and his space is welcoming and warm , he made sure my body and growing belly had plenty of support at the right places and his heated massage table added to the relaxing aspect of the treatment . I can definitely tell Gregory has a lot of experience, he immediately located where I had tensions and blocages . his massages and manipulations treated all the aches I had due to pregnancy. I felt really safe , listened and taken care of and I left my treatment totally relaxed and reenergized at the same time , with improved circulation and less back pain . I am totally seeing him again in the futur , even post pregnancy !
Nov 16, 2020
Yaddy was amazing!!  I felt SO relaxed after my massage. And the knots were out of my shoulders. Thank you!
Page 1 of 118:
«
‹
1
2
3
›
»