Our Health Care System
MPower Holistic Health Care system allows you to combine acupuncture, massage, chiropractic, skin care and nutrition for one cool low price - as low as $71 per session. You will also have access to cutting-edge electives such as personal training, Craniosacral therapy, reflexology and Polarity for the same low price. By removing the price barrier, we make it easy for you to experiment and combine different modalities so you can discover what combination is right for you. Optimal health is a discovery, not a definition.
Featured Therapy
Sport Massage
This technique is for athletes or workout warriors and enthusiasts that includes stretching, pumping of the muscle bellies, and friction on the tendon and ligament connections around the joints. The goals of the treatment are to improve performance before an event, enhance recovery after an event , and reduce soreness by facilitating the return of […]
Read More >>
Featured Therapist
Carlos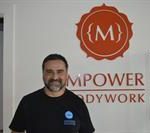 Carlos is an Acupuncturist who received his training at Tri-State College of Acupuncture. He is also a massage therapist who received his massage certification from the Swedish Institute.  He has been working in the body arts field since 1994. His acupuncture work consists of doing classical and traditional styles of acupuncture with trigger point dry […]
Read More >>
New Client Special
Therapist Reviews
Oct 22, 2019
Nick gave me an awesome massage, kind enough to fit me into a full schedule as a courtesy, my brotha came through with gifted and powerful hands, placing me at ease with skillfully varied intensity and technique.



I like his low key, congenial vibe, such a pleasure to work with...showed up a bit exhausted on a rainy day and left feeling at once relieved and uplifted. Look forward to another session with him, my only regret is that I didn't schedule more time. Highly recommend.
Oct 22, 2019
Sun Oct 20 2019 18:09:27 GMT-0400 (EDT)
thank you so much! Great massage
Oct 22, 2019
Adapted massage to my situation (plantar fasciitis) and pressure and techniques were great. Very relaxing.
Oct 22, 2019
Perfect! 10 stars!
Oct 22, 2019
Mon Oct 21 2019 12:33:44 GMT-0400 (EDT)
Mariko is an excellent acupuncturist. She actually listens to my concerns every single sessions and is gentle when she needs to be or applies more pressure but always according to my comfort level!
Page 1 of 116:
«
‹
1
2
3
›
»