Foot Essentials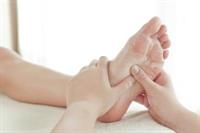 Your feet work hard every day. They carry the pressure of your body weight with every step. Often problems with the feet can cause problems moving upward to your ankles, legs, knees and lower back. Your feet have the job of keeping everything above them properly aligned. They are literally the foundation that you stand on.
Our Foot Essentials service is a combination of classic foot massage and foot reflexology. 
While foot massage addresses the muscles and soft tissue of the feet, reflexology, by use of pressure points, induce a healing response in corresponding organs and areas of the body.
What are some of the benefits of this therapeutic service?
Promotes better sleep
Improves circulation
Relives symptoms of stress and fatigue
Foot massage has been shown to help fight anxiety, stress, and depression
Healing different types of aches and pains such as headaches, migraines, neck pain, lower and upper back pain
Addresses foot and ankle problems
You may also want to add lemongrass or peppermint aromatherapy to this service for a refreshing, healthy essential oil twist.
Schedule Sessions Online
Union Square Park, NYC Location
32 Union Square East
6th Floor – Suite 603
New York, NY 10003